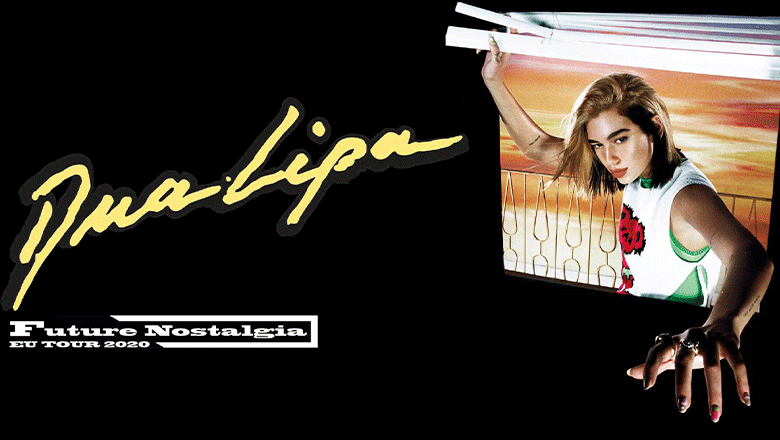 Monday | 09.05.2022 | 20:00 Uhr
Dua Lipa live in Hamburg 2022 – Tickets & Infos
Future Nostalgia Tour
Tickets, Upgrades, and VIP-Pakete Dua Lipa
Event Details
Verfügbarkeit

On Sale Now

Promoter

Live Nation
---
Secure your ticket or premium ticket for Dua Lipa 2020 live at the Barclaycard Arena Hamburg now.
"Future Nostalgia", that's the name of the album planned for 2020. The European arena tour of the same name will take the international pop superstar to Hamburg, Berlin, Munich, Cologne and Vienna in May. With over 17 million streams worldwide, the lead track of the upcoming album "Don't Start Now" is already a huge success. At the EMAs, AMAs and ARIAs, Duas incredible performances have already impressed millions of fans and viewers. With their album "Future Nostalgia" they want to break out of their comfort zone and take on the challenge of making music that reminds them of the feeling of their favorite pop songs, yet sounds uniquely like them.
Support
DJ BuckBetty
Lolo Zouai


---
Facebook-Event
Join the Facebook event now and be always well informed.
---
+++ VIP upgrades & parking tickets: From now on these new VIP services for selected events can be booked exclusively in the app.+++
VIP parking ticket for 15€
Parking ticket for the VIP parking lot Blue directly at the Barclaycard Arena.
VIP access for 19€ (Only valid in combination with a regular ticket)
The comfort package for your visit to the arena: Come in relaxed via the VIP entrance and get in the mood for the concert in an exclusive atmosphere in our Premium Lounge*.
Services:
Use of the separate Premium Input E5
Access to the Premium Lounge* (without drinks) until about 1 hour after the end of the event
Free wardrobe
*The Premium Lounge offers no view of the event, which you then follow from your regular seats.
VIP Pakete beinhalten Tickets für Ihr Event sowie weitere exklusive Leistungen, die Sie ausschließlich direkt über die Barclays Arena erwerben können. Unsere VIP Pakete bieten Ihnen einen exklusiven Komfort und lassen Ihren Besuch in der Barclays Arena zu einem besonderen Erlebnis werden.
Ein VIP Paket enthält:
Ihren VIP Parkplatz direkt an der Arena
einen separaten und direkten Zugang zur Arena
Tickets für Sitzplätze der besten Kategorie
sowie ein hochwertiges Catering- und Getränkeangebot
Mehr über unsere VIP Pakete erfahren Sie hier:
Überall in der Barclays Arena können Sie kostenfrei im Internet surfen und Ihre Erlebnisse mit Freunden und Bekannten teilen.
Einfach einloggen in "Free Arena WiFi from Vodafone" und posten, sharen oder liken.
Gepäck, Taschen und Rucksäcke
Hinweis zum Einlass
Um einen möglichst raschen Ablauf beim Einlass zu ermöglichen, weisen wir alle Gäste darauf hin, dass die Mitnahme von Rucksäcken jeglicher Größe, Reisekoffern, Kisten, Kartons, Motorradhelmen und Kinderwagen in die Arena verboten ist.
Handtaschen, Taschen und Turnbeutel/Gymbacks, deren größte Seite die längste Seite des Formats DIN A4 (21,0cm x 29,7cm) übersteigt, können ebenfalls nicht mit in die Arena genommen werden.
Auf dem Vorplatz der Arena befindest sich ein Container, an dem zu große Gepäckstücke zur Aufbewahrung während einer Veranstaltung abgegeben werden können. Die Plätze für Gepäckstücke sind limitiert. Die Kosten für die Aufbewahrung betragen 3€.
Jedes Ticket für eine Veranstaltung in der Barclays Arena enthält ein hvv-Ticket. Mit diesem können Sie am Veranstaltungstag von 0 Uhr bis 6 Uhr am Folgetag kostenlos den hvv für die Hin- und Rückfahrt zur bzw. von der Barclays Arena nutzen. Das Ticket umfasst die Ringe A-F.
Für Fahrten außerhalb der Ringe A bis F benötigen Sie eine zusätzliche Fahrkarte des Niedersachsen- oder Schleswig-Holstein-Tarifs.
Hygiene-Regeln zu Dua Lipa
Für diese Veranstaltung gibt es weder Zugangsbeschränkungen (Hygiene-Modell) noch eine Maskenpflicht.
Das Arena-Team emfpiehlt Besuchern, weiterhin eine medizinische oder eine FFP2-Maske zu tragen, auf Abstand zu anderen Besuchern zu achten und die Husten- und Niesetikette zu berücksichtigen.